Simon Spang-Hanssen
painter,
oil, acrylic and gouache
Drawing and oil-painting since  the age of twelve, originally inspired by the impressionist he also discovered the work of  Kandinsky, Klee, Miro etc.. In his early twenties the saxophone  finally took over and the brushes had to wait for a couple of decades.
First exhibition "Music Makers" in a CD –store , the Jazz Cellar in Copenhagen 2002 showed a series of  oil-paintings and gouaches, also reflecting influences from African and Oceanic art, as well as from painters like Lam, Brauner, Picasso, Matta, de Staël, Vieira da Silva, Kupka, Jorn, Alechinsky…
UDSTILLINGSTEKST: CONFLUENCES
Simon Spang-Hanssens (DK, 1955) malerier inviterer beskueren på en magisk og eventyrlig rejse, hvor det foranderlige, fantasifulde og fascinerende flyder sammen. Kunstværkerne bevæger, aktiverer og engagerer beskueren. Med farverige udtryk og legende former bliver værkerne levende med poetiske og humoristiske udtryk. De enkle men dog udtryksfulde virkemidler vidner om, at Simon Spang-Hanssens opfindsomhed og kreativitet ikke kun er forbeholdt hans musikalske karriere. Farver og former er i værkerne sat sammen i æstetiske relationer, og de flygtige gestikulationer af organiske og lyriske penselstrøg fører tankerne hen på jazzmusikkens vuggende rytmer og improvisatoriske frihed. Simon Spang-Hassen er inspirereret af bl.a. Kandinsky, Picasso og Miro, men det er tydeligt, han i værkerne har fundet sin egen "klangfarve", sin stil, som tjener til hans individuelle, kunstneriske udtryk.
Tekst: Cilia Espeland , kunsthistoriker
Exhibitions :
2002
"Music Makers "   The Jazz Cellar , Copenhagen
 "Imaginary Portraits "  composers-association D.J.B.F.A   Copenhagen
2004
"Masks and Spirits "  The Jazz Cellar, Copenhagen
2005
 Bartof Gallery, Frederiksberg
"Signs and Rhythms"  , The Jazz Cellar
" Jungle Life " , D.J.B.F.A
2006
Musicians Union Kunstforening (art association),  Copenhagen
Gallery Arleth, Horbelev
2007
Gallery Pialeh, Frederiksberg
Collective exhibition Gallery Raku, Hjortdal
 "Jazz- Life" ,  The Jazz Cellar
2008
Gallery Arleth, Horbelev
2009
Gallery Pialeh,  Frederiksberg
Ministery of Education Kunstforening "Minerva"
EPOS  Kunstforening
"Microcosmes"  D.J.B.F.A , Copenhagen
2010
Havarthigaarden, Holte with Erling Rasmussen
Gaz-Museum, Hobro, with Ole Bundgaard
2011
"SaFaRi" with Ramuntcho Matta , Frederic Dutertre and Shrederique Fantune,
Sometimestudio, Paris, France
"Masks and Beings"  Gallery Pialeh, Copenhagen
2012
"Sign Language " with Jan Kaspersen,  Den Gule Villa, Copenhagen, may 2012
Bang & Olufsen Kunstforening ( art association)   january 2012
Solvognen  Kunstforening , Odsherred   march,april,may 2012
"Inner Cities"  , Biblioteket , Danasvej, Frederiksberg, 1-31 october 2012
2013
"Polycurrents"
Lyngby Stadsbibliotek,   march 5-30  2013
Kunstforeninger : ESS-Food , Brøndby -  Cobham, Lyngby2014  "Intersections"   Galleri BLOCH, Kbh.2015   Kunstforeninger: Mark Information Lyngby, BASF, Rødekro
" Nattens Væsen, Dagens Nar"  , Gule Villa, Fredriksberg with Jette Botchinsky,
Maria Bloch og Ole Bundgaard
2016  Kunstnerlauget af 2013, group-exhibition at  Frederiksberg Rådhus
exhibition in Det Lille Musikhus during Copenhagen Jazzfestival
Frb. censuredere efterårsudstilling, fdr. Rådhus , october
2017
Galleri Øckenlund, Frederiksberg in may 2017
Café Amazônia, Copenhagen, september,october 2017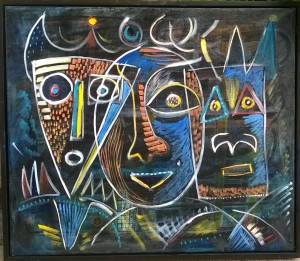 Paintings for several CD-covers, posters…
Illustrations
for Frans Bak and Gerz Feigenbergs children-songs "Mer en Nok" editions Wilhelm Hansen.
also take a look at:
*********************************************************