Si

m

o

n

S

pan

g-H

ans

s

en  5-tet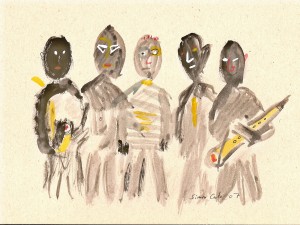 Bob Rockwell,     tenor-saxophone, clarinet, flute
Peter Dahlgren ,   trombone
Jeppe Skovbakke  / Yasser Pino ,   bass
Karsten Bagge ,   drums
Simon Spang-Hanssen , soprano, alto & tenor-saxophones, flute
" With Simon Spang-Hanssen's New 5-tet the music started swinging immediately in an unusually energetic bouquet of originals, sovereignly  delivered. "
  Michael Bo ,     Politiken  (Denmark)    2005
"The style is expressive and filled with springy sax-solos and good ensemble-work. Funnily enough, even though there is no piano on the recording, ones thoughts often graze around Thelonious Monk while listening to the CD."
                                                                  Niels  Overgaard ,       Jazznyt   (Denmark)     2007
The repertory was conceived especially for this instrumentation and participating musicians, focusing on a colorful  soundscape and close interaction in which everyone is both a soloist and section-worker.
Inspirations from all kinds of music: Mingus,  Monk, Rollins, Coltrane, Shorter, Duke, Gil Evans, Hermeto Pascoal, Grupo Irakere, Ravel, Bartok , music from Africa, Middle and Far East, Latin America….
Bob Rockwell   has played with the Thad Jones / Mel Lewis Big Band, Ben Sidran, the Danish Radio Big Band, Jan Kaspersen, The Organizers, Kasper Villaume, Joe Locke, Rufus Reid, Victor Lewis, Michael Mantler…
Peter Dahlgren has worked with The Copenhagen Art Ensemble, Kresten Osgood, Nordbaaten Big Band, European Youth Orchestra, Niels Praestholms "Embla"…
Jeppe Skovbakke plays with Kresten Osgood, Jakob Dinesen, Mikkel Ploug Quartet feat. Mark Turner, Jacob Anderskov Accident, Mark Solborg Quartet…
Yasser Morejon Pino   performs with Poul Reimann Trio, Grupo  Danzon, "Blanco y Negro" with  Jonas Johansen and Eliel Lazio, The End….
Karsten Bagge can be heard with  Rockwell/ Villaume Quartet , Anders Larsson Quintet (with Anders Bergcrantz ), Bevort-Schmidt Quartet , Thomas Clausen Trio and sextet, Signe Eeg…..
Simon Spang-Hanssen has played with John Tchicai, Jan Kaspersen, New Jungle Orchestra, Andy Emler, Denis Badault, Nguyên Lê, Billy Hart, Richard Bona, Louis and Francois Moutin, Edouard Ferlet, Néné, Linley Marthe, Felix Sabal-Lecco, Mario Canonge, Rainbow Spirit…
www.gatewaymusic.dk         simonspang@hotmail.com
www.myspace.com/simonspanghanssen1