new album with Epistrophy Septet:
Erik Kimestad, trumpet
Fredrik Lundin, tenor-saxophone
Peter Dahlgren, trombone
Artur Tuznik, piano
Yasser Morejon Pino, bass
Anders Mogensen, drums
Simon Spang-Hanssen, saxophones/comp.
ALCD033
Simon Spang-Hanssen "Epis

tr

ophy"  Septet
Erik Kimestad, trumpet
Simon Spang-Hanssen, alto & soprano-saxophones
Fredrik Lundin,  tenor-saxophone
Mikkel Aagaard, trombone
Artur Tuznik, piano
Yasser Morejon Pino, bass
Anders Mogensen, drums
https://orcd.co/plutoniceclipse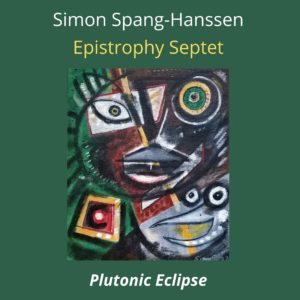 In concert Jazzhus Montmartre 27 may 2021
http://jazzhusmontmartre.dk/concert.1256
Simon Spang-Hanssen
Epistrophy Septet
Plutonic Eclipse 

"Denne yderst vedholdende saxofonist, komponist og ikke mindst orkesterleder, som også gør sig udi billedkunst, har med sin seneste septet så at sige "malet" nogle fine rids over nogle af sine musikalske favoritter som Duke Ellington, Thelonious Monk, George Russell og Gil Evans samt lige så agtværdige instrumentkolleger som Wayne Shorter og Joe Henderson, 
Foruden kapelmesteren høres en fyldig blæserfront, og en sej rytmegruppe, hvor alle er vægtige og med ubesværet overskud bidrager med at forløse de velskrevne kompositioners fine poly-tematikker, brede harmonikker, call 'n'responses,mønstre ogriffs, soli og andre tricks. 
Det er moderne jazz af den swingende art, der strækker sig fra sen 1950-erne og fremad med afstikkere til såvel afrikanske og syd-amerikanske anelser, som, når den eksemplificeres så levende, til hver en tid kan tituleres med et halleluja."  
                                                                                                                    T.S.Høeg, Jazz Special sep/nov. 2020 
supported by :  KODA and Danish Conductors Association
New music by the bandleader; inspirations from Th. Monk, Wayne Shorter, Duke, Joe Henderson, Gil Evans, Dave Holland, George Russell, Moacir Santos and many others…
In Concert:
27th may 2021 Jazzhus Montmartre, Copenhagen, Denmark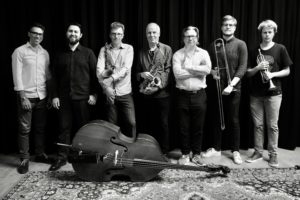 https://www.youtube.com/channel/UCuZm99ltf1MUdaUlf4cmF9A

Erik Kimestad (NO) has played and recorded with: The Horse Orchestra, Kresten Osgood Quintet,
Akmee, Henningsson/Hängsel Septet, JKA Quintet,  MMO-Ensemble, Artur Tuznik Sextet
Fredrik Lundin (DK) has played and recorded with Marilyn Mazur, Jon Balke, Carsten Dahl, Maluba
Orchestra, Tone of Voice, his own quintet with Thomas Dabrowsky, Peter Hängsel, Joel Illerhag, Anders Provis…
www.fredriklundin.com
Mikkel Aagaard (DK), graduate from the Conservatory of Fyn, member of Kathrine Windfeld Big Band, Morten Fischer Group, Tip Toe Big Band…
Artur Tuznik (PL) , performs with his own trio ( Nils Bo Davidsen & Jacob Høyer), sextet, in various projects, he has shared the stage and/or recorded with artists like Tomasz Stanko, Jeremy Pelt, Tony Malaby, Anders Christensen, Carsten Dahl, Andreas Lang, Richard Andersson, Anders Mogensen,  Thomas Agergaard, Tomasz Dabrowski….
www.arturtuznik.com
Yasser Pino, (CU), studied at the Conservatory in Copenhagen. Plays with a.o. Haroldo Nussa Lopes, Alexandre Abreu, The End, Grupo Danson, Calixto Oviedo, Domison, Jonas Johansen, Eliel Lazio,
Raul Pineda, Caramelo…
Anders Mogensen, plays with a.o. When Granny Sleeps, Kasper Tranberg, Niclas Knudsen, Jerry Bergonzi, Carl Winther, Walt Weiskopf, Peter Wettre, Tim Hagans, Marek Konarski, Jacob Anderskov, Gary Thomas, Django Bates, Tim Hagans, Cuong Vu, Lew Soloff ,Ray Anderson, Copehagen Art Ensemble, Dave Liebman…
www.andersmogensen.dk
….