Simon Span

g

-Hanssen & "EA

R

 WITNESS"     2016

Mario Canonge, piano
                                                                                     Linley Marthe, bass

Felix Sabal-Lecco, drums

Simon Spang-Hanssen, saxophones, flute, compositions
" …a groovy trip in a strange, stylistically indefinable area…"
Thorbjørn Sjögren, Jazz Special,Denmark
" Bassist and drummer have an almost twin-like understanding on the  rougish grooves.  The leader surges calmly amidst his spicy compositions."
                                                                                                                   Franc Bergerot, Jazz Magazine  june 2009
'"Ear Witness" is based in Paris and has been playing regularly in France and Denmark since 2001 (Le Baiser Salé, Maison du Danemark (Paris), Copenhagen Jazzhouse , Jazzhus Dexter, Dunkers Culture House, Holbaek Jazzclub etc. …)
The groups first CD "Ear Witness" was released in 2003 on Music Mecca, and "The Riddle " was released in september 2008 on Alisio Music (guest-performer guitarist Alain Apaloo ). Both with Emil Spányi, piano and keyboards.
The music is composed by the leader, but strongly flavored by the  personalities and  musical backgrounds of the performers.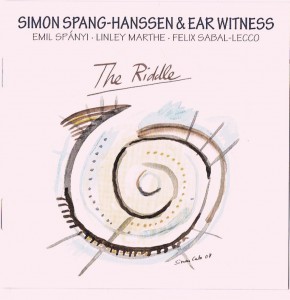 Mario Canonge, pianist  from Martinique, has a personal blend of jazz and Caribean styles in his playing. Co-founder with Nguyên Lê of "Ultramarine" he has also performed with a.o. Dee Dee Bridgewater, Ralph Tamar, Carter Jefferson, Chico Freeman, Courtney Pine, Richard Bona, Manu Dibango,Maraca All Stars with Giovanni Hidalgo, Horatio "El Negro" Hernandez and with his own projects with Michel Alibo, Jean-Philippe Fanfant, Roy Hargrove,  Blick Bassy, Adriano Tenorio, Tangora, Michel Zenino…
 Linley Marthe (Mauritius,FR), was a member of the Zawinul Syndicate(2003-7), and has also played with Nguyên Lê, Trilok Gurtu, Dave Liebman, Mario Canonge, Francis Lassus,  Paco Séry, Defunkt, Andy Narrel ,Cheb Mami, Jean-Luc Ponty, Randy Brecker, Monika Njava, Didier Lockwood, Andy Emler, Deodato Siquir….
Felix Sabal-Lecco,(Cameroun,FR) has played with among many others: Manu Dibango, Salif Keita,Youssou N'Dour, Peter Gabriel, Paul Simon, Jeff Beck, Jean-Paul Bourelly, John Scofield, Alan Stivell, Shawn Lane, Jonas Hellborg, Herbie Hancock, Armand Sabal-Lecco, Hervé Krief, Etienne MBappé,…
Simon Spang-Hanssen (Denmark ), has worked with John Tchicai, Ben Besiakov, Jesper Lundgaard, Alex Riel, Nguyên Lê, Andy Emler, Quintet Motin, .,Orchestra National de Jazz (FR) ,Michael Gregory Jackson, own groups with among others.: Billy Hart, Richard Bona, Bojan Z., Dawda Jobarteh, Ayi Solomon, Bob Rockwell, Mariane Bit ran, Mario Canonge, Tony Rabeson, Franck Tortiller, Ricardo Fiúza …