Simon Spang Band "Rainbow Spirit"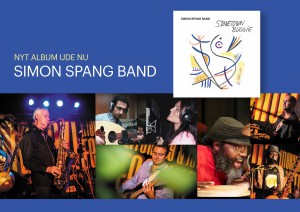 Simon Spang-Hanssen, saxophones, flute
Dawda Jobarteh, kora
Thomas Fonnesbech, bass
Ayi Solomon,  percussion
Niclas Campagnol, drums
new album out:
Stonetown Boogie  ALCD008
with guests:
Claudia Campagnol, vocals
Maher Mahmoud, oud
in concert:
www.gatewamusicshop.dk               www.iTunes.com

former cd: "Rainbow Spirit"   Alisio 2007 ALCD 001
nominated for the Danish Jazz Awards 2008 in the "crosssover" -category.
http://www.youtube.com/watch?v=6lZQSqU-29Y

http://www.youtube.com/watch?v=wTYlIq3NFCg

recorded at the Jahazi Jazz and Literary Festival, Zanzibar 2012

A confluence of jazz and West-African music in which the kora functions as a sort
of tonal center, extended by influences from the East, the Caribbean…
"Danish / African quartet plays a seductive mix of jazz and West-African music."
It may sound like a cliché, but nevertheless it is a fact that the listener has a hard time maintaining a hard-won, confined melancholia, and expanding lunar eclipse, while listening to this music of African inspiration, Whether you want it or not you simply get in a good mood while listening to it. Rainbow Spirit is not quite"pure" African music. "Rainbow Spirit" would be more of a mixture of European jazz and traditional west-African music. Gambian kora-player Dawda Jobarteh and Ghanese percussionist Ayi Solomon are central in the general sound picture, but so are the two Danes, Simon Spang-Hanssen on saxophones and flute and Thomas Fonnesbech on bass. This constellation- this Danish/African quartet- creates a unique, lively, refreshing and seductive musical expression, which both maintains the qualities of West-African tradition and develops it with a touch of Nordic jazz. Certainly, the music is simple, easy to listen to and sometimes even cheerful. But it also posseses depth, character and edge. And this makes it worthwhile listening to –again and again."
                                                                                             Ivan Rod      Gaffa 2007
Rainbow Spirit has performed in Copenhagen Jazzhouse, Copenhagen Jazz Festival, Giant Steps, Tranquebar, Buddha's Jazzclub ( DK),Le Baiser Salé (Paris), B-flat (Berlin),  Jahazi Jazz and Literary
Festival, Zanzibar 2012…
Dawda Jobarteh (Gambia/Denmark) plays with his own sextet "Wakilo", Moussa Diallo, Nana Osibio's "Asafo"and is a frequent guest with the Pierre Dørge's  "New Jungle Orchestra" and Palle Mikkelborg….
Thomas Fonnesbech ( DK ) performs with Poul Reimann Trio, Thomas Clausen Trio and  Sextet, Mona Larsen, Søs Fenger, Kristian Jørgensen Quartet, Lars Jansson, Jacob Christoffersen, Christian Sands,…
Ayi Solomon (Ghana/Denmark) played with"Classic Vibe", and since then with a.o."New Jungle Orchestra", John Sund, Susi Hyldgaard, Katrine Suwalski, Moussa Diallo, "Himmerland"…
Niclas Campagnol,  (SE,DK,IT) performs with: Poul Reimann Trio, Antonio Farao, The Organizers, Jørgen Emborg, Bo Stief, Dawda Jobarteh Band,Tomas Franck, Cecilie Nordby ….
Simon Spang-Hanssen, (Denmark), has played with John Tchicai, Jan Kaspersen, Ben Besiakov, Jesper Lundgaard, Alex Riel, Nguyên Lê, Richard Bona, Billy Hart,Nenê Baterista, Edouard Ferlet, Mario Canonge, Linley Marthe, Xavier Desandre, Bob Rockwell… his own groups: "Central Earth","Maaneklar", 5-tet, Ear Witness …
Claudia Campagnol, har performed/recorded with a.m. : Stewie Wonder (backingvocals), Gerard Pesencer, Peter Bernstein,
Jeff Richmann, Kalman Olah, Robert Lakatos, Arild Andersen, Andrew Strong, Marc Bernstein, Nils Landgren, Jørgen
Emborg, Håkan Rydin, Lennart Gruvstedt, Tomas Franck, Jan Lundgren, Helge Albin, Peter Asplund, Carl Winther
Alain Apaloo, Elias Kjälvik…
Maher Mahmoud ,born in Syria in 1986 and currently lives in Denmark. He's a composer and Oud player graduated from The Higher Institute of Music in Damascus 2010 where he studied the Oud instrument and both classical western and eastern music.He has played many solo concerts and many others with different bands playing Arabic, classic and jazz music in different countries around the Middle East and Europe with among athers Morten Carlsen's "Dunia", Chappe's "Blood, Sweat Bass & Drums Big Band as a guest with  Palle Mikkelborg and Dave Liebman. He released his 1st album "Mirage" in Damascus 2010.
Thomas Fonnesbech , Livingstone, Jahazi                                                                                       Niclas Campagnol
Dawda Jobarteh                                                                                                 Simon
above photos by Jacob Crawfurd        www.crawfurd.com          please mention in case of use