Si

m

on S

pan

g-

Hanssen   &  "EAR  W

IT

NESS"   2015

Mario Canonge   piano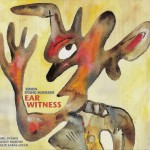 Linley Marthe    bas
Felix Sabal-Lecco   trommer
Simon Spang-Hanssen    saxofon, fløjte, komposition
" …en groovy rundtur i et sjovt, stilistisk ubestemmeligt område …"
                                                                                   Thorbjørn Sjögren        Jazz Special
" Bassist og trommeslager spiller med en  tvillingeagtig indforståelse over de skælmske grooves.
Emil Spányi forstår at udnytte de fulde klangmuligheder i sine årgangs-synthesizer og kapelmesteren
kaster sig afslappet over sine, som altid, velkrydrede kompositioner.
Franck Bergerot, Jazz Magazine  juni 2009
http://www.soundcloud.com/simonspanghanssen/sets/ear-witness


Musikken er komponeret af kapelmesteren og stærkt farvet af de medvirkendes diverse musikalske baggrunde og personligheder; samt af en sammenfletning af afrikansk rytmik, jazz, motiver og melodik fra alverdens musik …
CD'er :  "Ear Witness"  Music Mecca 2003  CD 4027-2
"The Riddle"   Alisio  2008  ALCD003
Begge cd'er med Emil Spányi, piano,keyboards
Koncerter:  Le Baiser Salé, Cithea (Paris), Copenhagen Jazzhouse, Jazzhus Dexter, Giant Steps, Holbæk Jazzklub, Portalen,Dunkers Kulturhus, Jahazi Jazz & Literary Festival, Zanzibar….
Mario Canonge, pianist  from Martinique, has a personal blend of jazz and Caribean styles in his playing. Co-founder with Nguyên Lê of "Ultramarine" he has also performed with a.o. Dee Dee Bridgewater, Ralph Tamar, Carter Jefferson, Chico Freeman, Courtney Pine, Richard Bona, Manu Dibango,Maraca All Stars with Giovanni Hidalgo, Horatio "El Negro" Hernandez and with his own projects with Michel Alibo, Jean-Philippe Fanfant, Roy Hargrove,  Blick Bassy, Adriano Tenorio, Tangora, Michel Zenino…
 Linley Marthe (Mauritius,FR), was a member of the Zawinul Syndicate(2003-7), and has also played with Nguyên Lê, Trilok Gurtu, Dave Liebman, Mario Canonge, Francis Lassus,  Paco Séry, Defunkt, Andy Narrel ,Cheb Mami, Jean-Luc Ponty, Randy Brecker, Monika Njava, Didier Lockwood, Andy Emler, Deodato Siquir….
Felix Sabal-Lecco, born in Cameroon, lives in Paris, has played with among many others: Manu Dibango, Salif Keita,Youssou N'Dour, Peter Gabriel, Paul Simon, Jeff Beck, Jean-Paul Bourelly, John Scofield, Alan Stivell, Shawn Lane, Jonas Hellborg, Herbie Hancock, Armand Sabal-Lecco, Hervé Krief, Etienne M'Bappé,…
Simon Spang-Hanssen (Denmark ), has worked with John Tchicai, Ben Besiakov, Jesper Lundgaard, Alex Riel, Nguyên Lê, Andy Emler, Quintet Motin, .,Orchestra National de Jazz (FR) ,Michael Gregory Jackson, own groups with among others.: Billy Hart, Richard Bona, Bojan Z., Dawda Jobarteh, Ayi Solomon, Bob Rockwell, Mariane Bit ran, Mario Canonge, Tony Rabeson, Franck Tortiller, Ricardo Fiúza …