Simon S
p

ang-Ha

n

ssen & C

a

fé Central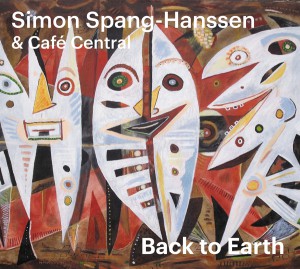 Claudia Campagnol , vocal, keyboard
Mariane Bitran , flutes, vocal
Alain Apaloo , guitar, vocal
Aske Drasbaek , barytone-sax, clarinet
Yasser Morejon Pino , bass
Niclas Campagnol , drums
Simon Spang-Hanssen ,tenor & soprano-saxophones
music by and lyrics by S.S.H.
concerts:
9 february 2016   Paradise Jazz, Copenhagen
11 february  2016  Volssmose Kulturcenter, Odense, DK
28     "       "     2016  Aarhus Jazzselskab, DK
2 june  2016  Giant Steps, DK
13 oct 2016 Jazzhus Dexter, Odense DK
15 oct. 2016 Bartof Station, Frederiksberg
20 feb. 2017  Paradise Jazz, Copenhagen
http://www.gatewaymusicshop.dk/index.php?route=product/product&product_id=948
 www.gatewaymusic.dk/kunstner/7002
https://itunes.apple.com/dk/album/back-to-earth/id1081834882?l=da
A new project in which the leader has his debut as a songwriter; the music is based on jazz with influences from Brazil, West-Africa,the Caraibes, r&b, funk, Ellington, Jobim, Wonder, (to name a few favourites)… and features a great new talent: singer Claudia Campagnol on lead vocals, in front of an international team of strong musical personalities.
CD: "Back to Earth" to be released in january 2016
www.soundcloud.com/simonspanghanssen/sets/cafe-central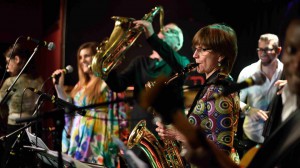 with Pernille Bevort on barytone,
photo by Henrik Noergaard
Claudia Campagnol, born i Budapest,Hungary. Later moved to  Malmö,Sweden.Has  performed/recorded with a.m. : Gerard Pesencer, Peter Bernstein,Jeff Richmann, Kalman Olah, Robert Lakatos, Arild Andersen, Andrew Strong, Marc Bernstein, Nils Landgren, JørgenEmborg, Håkan Rydin, Lennart Gruvstedt, Tomas Franck, Jan Lundgren, Helge Albin, Peter Asplund, Carl Winther, Alain Apaloo, Elias Kjälvik, Stewie Wonder (backingvocals).
Mariane Bitran, born in Paris,France. Flute and backing-vocals. Has performed with: Le Quintet Moutin (François and Louis Motin), ZoomTop Orchestra feat. Richard Bona, Christophe Chassol,
Olivier Cahours, Pernille Bevort's "Radio Bevort", Alain Apaloo's "Api Pipo", Simon Spang-Hanssen's
"Brazilian Project" and "Alisio Ensemble", Ijexa Group (performance for children) with dancer Barthelot Ekeme Same and percussionist Ignacio Guerra Acosta, Arnold Ludvig Sextet and her own groups with a.o. Thomas  Fonnesbech, Anderss Mogensen, Christophe Lavergne, co-leader with Makiko Hirabayashi of "Grey to Blue" feat. Bob Rockwell.
Alain Apaloo, born in Togo in 1976. Began playing early with a.o. Jimmy Hope and Kojo Antwi.
Diploma from the Rhytmic Conservatory in Copenhagen in 2003. Has performed with Ken Lending Blues Band, Paul Banks, Dan Hammer, Jakob Dinesen, Arnold Ludvig Sextet and with his own groups: Mezzy Slide and the Crew (quartet), Trio with Morten Ankarfeldt and Rasmus Lund, "Api Pipo" with Kurt Rosenwinkel as a guest on the second album "Nunya", "Twin Tribe" ,duo with Ayi Solomon. Solo performances in Denmark, Sweden, U.S.A.
Aske Drasbaek
Born in 1983 in Denmark. Has studied in Skurup in Sweden and at the Rhytmic Music Conservatory in Copenhagen. Plays with amog others: The Kultimangoes (with Michael Blicher), Aske Drasbæk Group (with Per Moellehoej), Gemmer/Estola Quartet, Orpheus.
Yasser Morejon Pino
Was born in Havana in 1976. He is graduated as concertist and classical guitar teacher from the Conservatory "Amadeo Roldan" in Havana in 1995, but also graduated as contrabass player and teacher from the Rhythmic Conservatory of Copenhaguen, Denmark in 2006, where he was student of Niels Herning Ørsted Pedersen.
In Cuba he worked as a bass player with bands such as Aries, Natura, Chucho Valdes Jr, Roberto Fonseca y "Temperamento", Denis y su Swing, Rojitas y su Orquesta. Currently he collaborates in multiples projects and bands like Grupo Danson, KNA Connected, Cubita, The End 2.0 and Afrocuban Allstars. He also keep a busy schedule with renamed musicians such as: Håkon Graf, Jonas Johansen, Morten Grønvad, Simon Spang-Hansen, Niclas Compagnol, Calixto Oviedo, Alexander Abreu among others, as well as with his own project "Latin Syndicate" (Eliel Lazo, Nico Gori, Paulo Russo…).
Niclas Campagnol, born in 1973 in Sweden. Has Performed and recorded with with Poul Reimann, Thomas Fonnesbech, Cæcilie Nordby, Tomas Franck, Jens Winther, Carl Winther, George Garzone, Nikolaj Bentzon, Olivier Antunes, Kjeld Lauritsen, Antonio Farao, Niels Ryde, Moussa Diallo, Dawda Jobarteh, Gabor Bola, John Patitucci,Bob Rockwell, Billy Cobham, David Kikoski, Bo Stief, Jørgen Emborg, Didier Lockwood, Christian Sands, Jerry Bergonzi, Kalman Olah, Jacob Fischer, Jonas Hellborg..