Simon Spang-
Ha

nssen

TRIO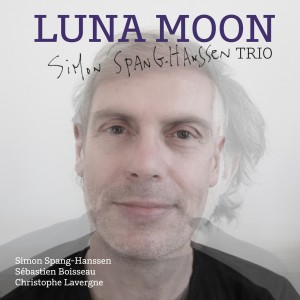 Simon Spang-Hanssen,  saxophones alto & soprano, flûte
Sébastien Boisseau, contrebasse
Christophe Lavergne,  batterie, percussion
CD  "LUNA MOON"  ALCD007 sortie le 7 mars 2013
en concert :
6/2 2014  Wintherjazz-Festival, Copenhague
8/2 2014  "Jazz sur le Vif", Maison de la Radio
9/2 2014  La Fabrica'son, Malakoff
10/4 2014  DJAZ51, Reims
Nominé parmi les meilleures 10 cd's par (th Annual Critics Poll (U.S.A.), Jason Weiss,JazzImpro
Enregistré à Lizières    www.lizieres.org

"Et c'est avec plaisir qu'on retrouve Simon Spang-Hanssen dans la liberté du trio et plus précisément
avec cette formation-là. Boisseau et Lavergne offrent à sa musique des aises, jouant de son lyrisme
et de son côté dansant dont ils préservent le naturel rustique tout en lui donnant l'ouverture hors de
tout format étriqué."
Franck Bergerot,  Jazz Magazine/Jazzman  mai 2013
"L'interaction entre les deux français et Simon Spang-Hanssen est exemplaire; ce sont des partenaires loyaux et très à l'écoute et cela contribue à faire de "Luna Moon" un album remarquable "
  Ole Nimand, Jazz Special , juin 2013
… Le saxophoniste-flûtiste danois Simon Spang-Hansen voyage entre Copenhague et Paris, entre free-jazz et groove bancale, entre tradition assumée et percées fulgurantes.
La Fabrica'son
download, vente du cd:
http://www.gatewaymusicshop.dk/index.php?route=product/product&filter_name=simon&product_id=519
écouter qulques morceaux:
http://www.soundcloud.com/simonspanghanssen/sets/trio
en concert à La Fabrica'son, Malakoff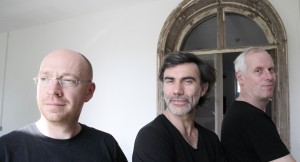 enregistré et mixé à Lizières par Yoann François
www.lizieres.org
mastering par Jan Eliason Audioplanet (DK)
photos: Ramuntcho Matta
Sébastien Boisseau
Installé à Nantes où il co-dirige le label Yolk Records, Sébastien Boisseau est devenu en peu de temps
un contrebassiste de référence en Europe.
Développant un jeu puissant et élégant, ses références sont ancrées dans le jazz quelque part entre Jean-François Jenny-Clark, Marc Johnson et Scott Lafaro.
Il compose pour ses projets WOOD et UNIT et participe à de nombreux projets européens. Fidèle aux partenaires de la première heure (Alban Darche, Denis Badault, Matthieu Donarier, Jean-Louis Pommier…), il a collaboré et se produit avec de nombreuses figures du jazz: Daniel Humair, Joachim Kühn, Louis Sclavis, Charlie Mariano, Marc Ducret, Martial Solal, Misha Mengelberg, John Hollenbeck, Pat Metheny, Michel Portal, Gábor Gadó, Eric Watson, Stéphan Oliva, Hans Lüdemann, Piotr Wojstasik, John Tchicai, Mikko Innanen, Kenny Werner, Simon Goubert, Pierre D_ørge, Dado Moroni, Franco Ambrosetti, Kalman Olah…
Sa rencontre avec Jean-Yves Evrard l'emmène vers d'autres approches d'une musique instantanée comme les performances ("il n'y a pas de fraise en hiver"), la chanson (Daniel Hélin), le théâtre où il joue à ses côtés dans la pièce de l'auteur flamand Arne Sierens "De Pijnders". En 2011, il compose une musique pour le film muet de Teinosuke Kinugasa « Une page folle » (1926) qu'il interprète au « festival de l'histoire de l'art » de Fontainebleau. Avec Louis Sclavis et Jean-Paul Delore, ils créent "Langues et Lueurs" un récital sur des textes d'auteurs francophone (Henri Michaux, Sony Labou Tansi, Dieudonné Niangona, Charles Beaudelaire…).
Sébastien Boisseau travaille actuellement à la sortie du premier album de WOOD en duo avec Matthieu Donarier. Il propose également des programmes courts en duo sous forme de "salons de musique" où l'hôte invite ses amis ses voisins à découvrir la pratique de l'improvisation en hyper-proximité.
Christophe Lavergne
 ..Il a suivit ses études de percussions au C.N.R. de Nantes avec Gérard Hieronimus et obtient son diplôme de fins d'études. Parallèlement, il étudie le jazz en autodidacte et part à New York à plusieurs reprises pour étudier la batterie à la New School et au Drummer's Collective avec Billy Hart, Adam Nussbaum, Charly Persip, Mike Clark et Marvin Smitty Smith. Il participe également à des master class en France et en Irlande sous la direction de John Abercombie, Keith Copeland, Dave Liebman, John Scofield et John Mac Laughlin. Il s'est produit ou a enregistré avec Seamus Blake, Philippe Harper, Médéric Collignon, Louis Sclavis, Laurent Cugny, George Arvanitas, Graham Haynes, Norma Winston, Emmanuel Bex, Jacques Pellen, Steve Potts, Alain Jean-Marie, Gildas Bocle, Stéphane Belmondo, Denis Leloup, Michel Benita, David Patrois, Anthony Kerr, Gueorgui Kornazov, Olivier Hutman, Benoît Delbecq, Jasmine Vegas, Héléna Noguerra, Pierre De Bethmann, Christophe Laborde, Ronan Guylfoyle, Bruno Angelini, Olivier Sens, Jean-Louis Longnon, François Corneloup, Ravi Coltrane, Drew Gress, George Garzone, Norbert Lucarain, Philippe Katerine, Fred Poulet… Simon Spang Hansen, Mario Cannonge, Stéphane Galland.
Il se produit actuellement avec les groupes: Thôt (twin, sabar ring et drums project), Payen sextet (tribute to Lee Morgan), Le gros Cube (Cube) Queen Bishop, Irish and French Connexion, Sylvain Cathala Trio , Diagonale, Pick up Quintet, Nadja trio, Qüntet, Trio LPT 3, Françis et ses peintres, Jazzarium de G Saint James, Anda , Misja Michel Fitzgerald Duo, Beaux Arts de Sylvain Rifflet, Olivier Lété Trio, Matthieu Donarrier: "Dragoon".
www.sebastienboissaeu.com
www.myspace.com/christophelavergne