Simo
n

Spang-H

a

nssen  S

p

ecial  Q

uar

tet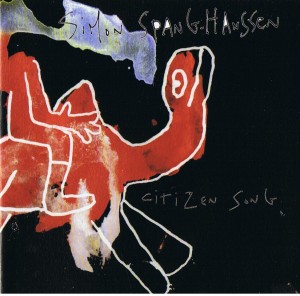 Kristian Joergensen     violin
Kaare Munkholm       vibraphone
Jesper Lundgaard           bass
Simon Spang-Hanssen    tenor saxophone, arr.
CD:  "Citizen Song"   Alisio Music 2012   ALCD006
"and this instrumentation is not only original, but, by all means, refreshing and delectable. The
four musicians are all completely into the ideas and sounds, and delivers an exquisite mix of the leaders fine, and never strained, compositions and familiar songs such as Jerome Kern's "Yesterdays"
and Richard Roger's "Blue Room". Yes, it swings in a very insinuating way – with an airy vibraphone,
a smooth bass and a highly movable violin, yes, enjoy it in the final track, the ever-green " My One and Only Love". But, enjoy also the tenor-playing of Simon Spang-Hanssen, well…this is probably quite inevitable."
                                                                        Kjeld Frandsen,  Belingske Tidende (DK)  march 2013
Reinterpretations of standards, jazz-originals as well as own material. The rather unusual instrumentation brings about a special sound-universe, allowing the group to throw a different light on the wellknown songs.
In this setting the leader concentrates on the tenor-saxophone in a tribute to some of his idols:
Dexter Gordon, Sonny Rollins, Paul Gonsalves…
Kristian Jørgensen, born in 1967, has played the violin since he was 9 years old. Among his many collaborations he has performed with: Duke Jordan, Mads Vinding, Alex Riel, Marilyn Mazur and Fredrik Lundin. Leader of his own quartet with Jacob Fischer,Thomas Fonnesbech and Kresten Osgood (on occasion guest starring Monty Alexander), and also member of the Tango Orchestra ( recording and tour with Marcelo Nisinman.  In a personal way he perpetuates the heritage from  Svend Asmussen, also with inspirations from Toots Thielemans , Lester Young, Charlie Parker and Stuff Smith.
Simon Spang-Hanssen born 1955, started out with John Tchicai & Strange Brothers and has since played with, among others, Néné, Atilla Engin, Ben Besiakov, Alex Riel, Jan Kaspersen, Nguyên Lê, Richard Bona, Linley Marthe, Billy Hart, Thomas Clausen,"Rainbow Spirit" with Dawda Jobarteh, Thomas Fonnesbæk and Ayi Solomon, "Maaneklar",5-tet (with Bob Rockwell and Peter Dahlgren) and many other of his own projects. Very active as a composer and arranger, with roots in jazz, but also with a keen interest in other musical cultures.
 Kaare  Munkholm ,born in 1964, diploma from the Rhythmical Music Conservatory with vibraphone as main instrument. .A key member of the successful fusion band "Bagdad Dagblad" and the internationally famous Tango Orchestra. Has also played with Fredrik Lundin's "Dos Mundos" and Hans Ulrik's "Wombat". Recognized as one of the major vibraphone-players, inspired by Milt Jackson, Lionel Hampton and Gary Burton.
Jesper Lundgaard,  born in1954,has played with Bent Eriksens Trio, Thad Jones/Mel Lewis Big band , Duke Jordan, Warne Marsh, Paul Bley, Doug Raney, Thomas Clausen Trio, "Repertory Quartet" with Jacob Fischer, Bob Rockwell and Alex Riel, his own Trio with Niclas Knudsen og Hans  Ulrik, Eddie Lockjaw Davis, Johhny Griffin and many others…
Contact:
simonspang@hotmail.com
tel. 33 86 16 10 / 26 16 48 12
www.simonspang.com