download and streaming   iTunes, Tidal, Deezeer, Spotify etc.
Simon Spang-Hanssen & Middle Earth w. Maher Mahmoud
Maher Mahmoud (SY), oud
Yasser Pino (CU), bass
Ayi Solomon, (GH), percussion
Simon Spang-Hanssen (DK), saxophones,flute
Music by Simon Spang-Hanssen & Maher Mahmoud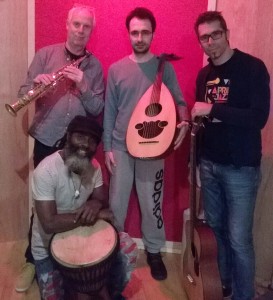 A journey  across the borders of diverse musical cultures,,,,an oriental jazz-world-folk fusion with the sound of the oud as a sort of common ground and red thread.
Maher Mahmoud is graduated from The Higher Institute of Music in Damascus and is currently teaching arabic music at the Conservatoryof Aarhus (DK). Performances with a.o. The Syrian Expat Ensemble,  Damon Albarn and Brian Eno, Dunia Ensemble, Grænseløs, Dicte, JSO Bremen-Nord Philharmonic Orchestra, Blood-Sweat-Drum & Bass big band, Soeren Moeller Big Band, Aarhus Jazz Orchestra, Listen! Trio, Nouri Iskandar String Quartet and Li Dine.
Yasser Morejon Pino, born in Havana, Cuba. Studied at The Rhytmic Music Conservatory in Copenhagen, Denmark with a.o. Niels-Haenning Orsted Petersen. Has played in numerous constellations including his own Latin Syndicate (Paolo Russo, Nico Gori, Eliel Lazio…), Haroldo Nussa Lopez Trio, The End, Grupo Danzon, Chucho Valdez, Alexandre Abreu…
Ayi Solomon, member of "Classic Vibes" (Ghana) w. Kodjo Antwi, moved to Denmark in the early 80-ties and has played with The New Jungle Orchestra, Himmerland, duo with John Sund, Alain Apaloo "Api Pipo", Nana Osibio, Dalia Faitelson, Katrine Suwalski "Another World", Tax Office, Feridah Rose…
Simon Spang-Hanssen, born in Copenhagen. Started out with John Tchicai & Strange Brothers, has since performed with a.o. Jan Kaspersen, Atilla Engin, Okay Temiz, Nenê Sextet (BR), Nguyên Lê "Tales of Vietnam", Andy Emler, Orchestre National de Jazz (FR), Denis Badault, Michael Gregory Jackson "Clarity Quartet",Bojan Z. own projects like "Ear Witness" (Linley Marthe, Mario Canonge, Felix Sabal-Lecco), "Rainbow Spirit" (Dawda Jobarteh, Thomas Fonnesbech), Café Central (Claudia Campagnol, Mariane Bitran, Alain Aapaloo…) …